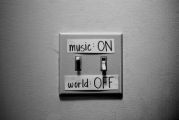 Life is not always full of joy and pleasure. Moreover, many of the pleasures tend to turn into addiction and a source of suffering. I've been literally staggering from musical hunger for the last half a year. There was a terrible lack of a fixed song, a good hit that would sit in the brain and set the rhythm of life. Without much hope, I leafed through reviews on music portals, doomedly listened to new albums of "old" bands that had long been bored. Yearning…
And suddenly, right in the middle of hiking in Georgia, some motive pops up in my head . Quiet, melodic. Where are you from, baby?
Probably picked up pop music at the airport. Fuck her.
The days are flying, we are crawling across the Caucasus, the song does not go away. Moreover, the words begin to emerge:
….hard as a rock but a fool…heart from a horse… hammer will bite…
So it's not pop! Judging by the text, this heavy is a real all-metal piece of iron, my long-awaited joy))
Two weeks of the campaign whistled like a minute, I returned home and googled.
The song was found instantly – yes, I heard it once before the flight. The album is already rocking, eyes are burning.
So the incredible happened – I discovered a new group. Such events do not happen every day and not even every year, unfortunately.
The previous BIG discovery was probably Airbourne, and this is already 4 years ago, no less :(
Okay, finally meet Scandinavians Grand Magus and their 2014 album "Triumph and Power".
And here is the very song that haunted me on a hike in Georgia – "The hammer will bite"
Upon closer examination, it turned out that this is already the SEVENTH album of Grand Magus! Where did they hide before?
And the most incredible thing is that the previous albums are also good. Especially released two years earlier "The Hunt".
The main treasure of this disc is the unhurried Son of the Last Breath, blossoming at the end with a killer rhyme about nine days of the resurgent soul.
And here is the Hammer Of The North track from the 2010 album of the same name
I am not a music critic and I cannot scientifically explain what is the beauty of this music. And is it necessary? Turn it on, listen – and everything will become clear.
If you are unlucky this time and Grand Magus didn't "hook" you – don't despair, sooner or later you will find yourself a new melody and satisfy your musical hunger.