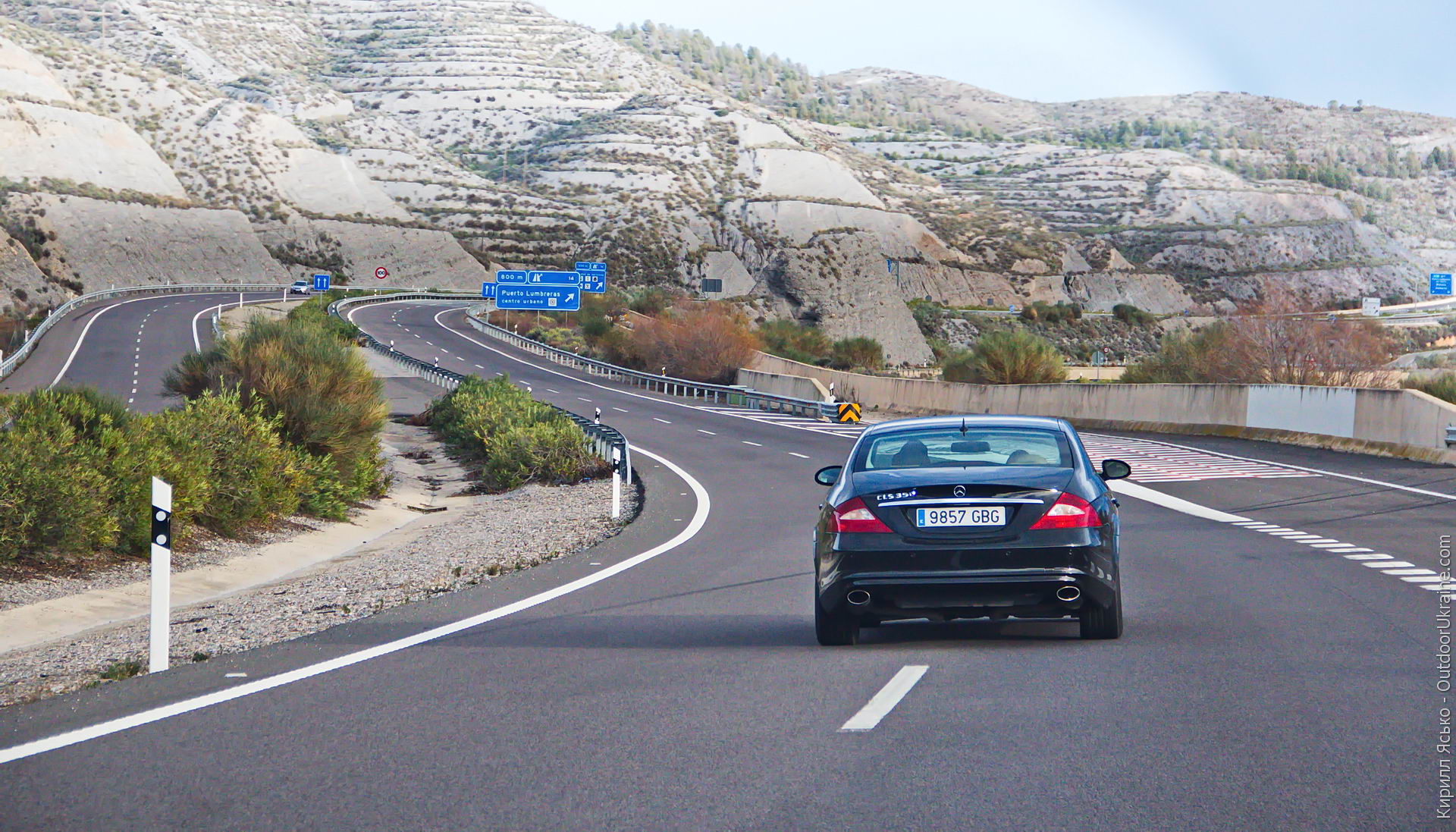 In the winter of 2016, my wife and I decided to bask a little in the sun and at the same time "run in" the Schengen visa by going on a trip to Spain in a rented car. This is not the first experience of auto travel, before that we traveled in this way in Turkey, Mexico and Sri Lanka. We had a good idea of ​​what we were capable of and, based on our interests, planned to visit about 20 settlements and 3,300 kilometers of crossings in 15 days of travel. There were all the most iconic cities (Madrid, Seville, Granada, etc.) and several natural attractions (Torcal, Sierra Nevada, the sea).
I will write about my personal impressions of visiting each of the cities in the next article, but for now, mail a report on the technical side of the matter – expenses, transport, accommodation, weather.
Trip budget
For 17 days of the trip, we spent approximately 1500 euros for two. If we discard two days occupied by purely moving, then there are 15 active days. It turns out that we spent about 50 euros per day per person. Of these, approximately 17 went to housing, 20 to transportation, 5 to food, and 8 to attractions. To be honest, I myself did not expect that the proportion would be so strange. Let's take a closer look at the expense items:
Transport: 284 euros – car rental, 230 euros – gasoline, 30 euros – parking in the city (hotels are counted with housing), 10 euros – city buses.
The road to Spain: 100 euros plane Krakow-Girona-Krakow for two, 100 euros buses Kyiv-Krakow-Kyiv for two.
Accommodation: €495 for 17 nights, i.e. an average of 35 euros per night in a double room.
Meals: 100 euros – groceries in the supermarket, 40 euros – all kinds of catering
Gifts and souvenirs: 100 euros
Attractions: €140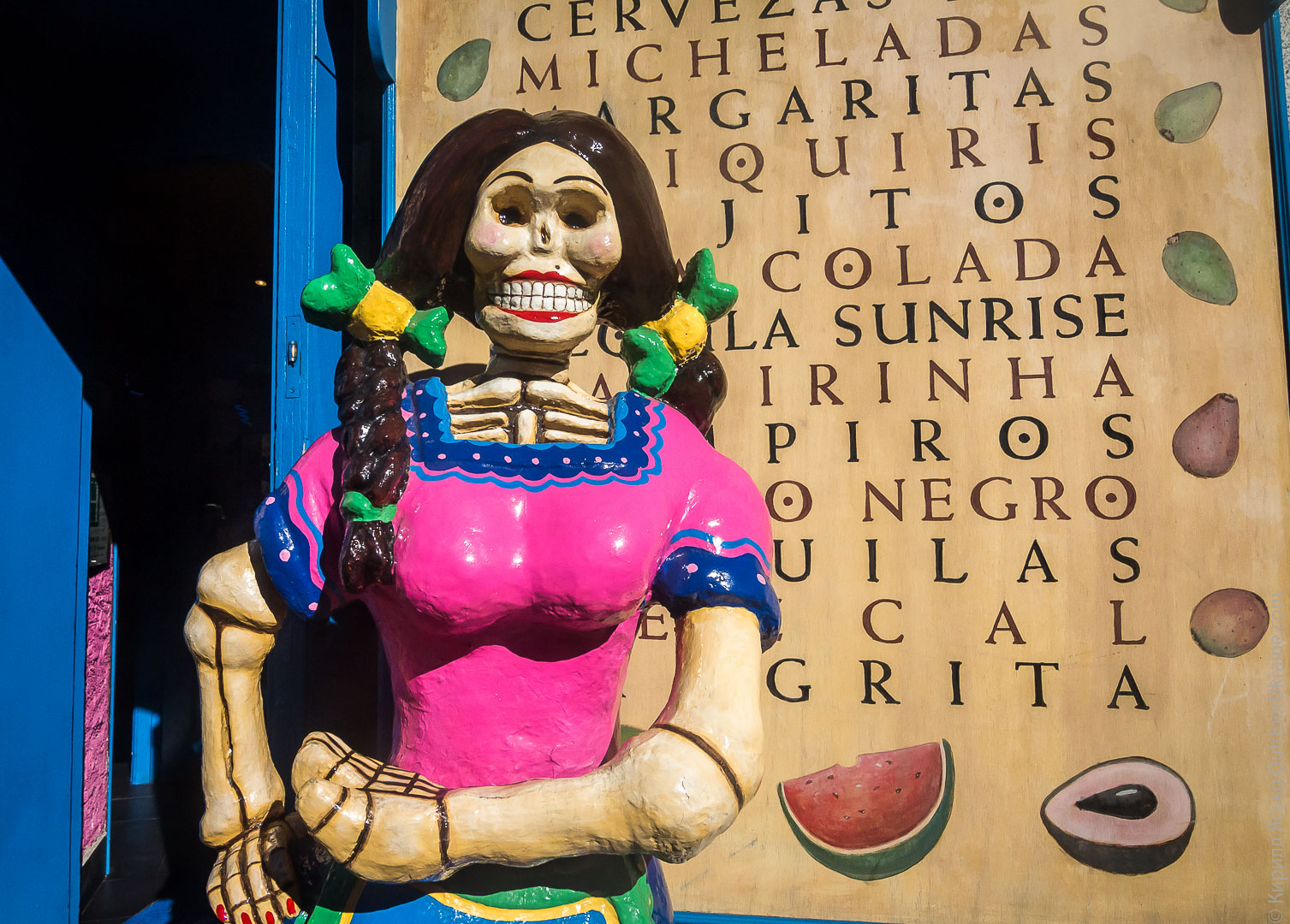 About half of the expenses we paid by card and half in cash. But in reality, cash was only needed to pay for city buses, street toilets, and unlock carts in supermarkets. Everything else could be easily paid by card.
Travel route
Evening departure from Kyiv by bus.
At 6 am, arrival in Krakow, sightseeing of the city, flight to Girona. Car pickup, transfer to Lleida (3 hours).
Supermarket in Lleida, transfer to Zaragoza (2 hours), sightseeing of the city, transfer to Madrid (4.5 hours)
On foot in Madrid
Transfer to Segovia (1.2 hours), sightseeing of the city. Transfer to Avila (1 hour), sightseeing of the fortress. Return to Madrid (1.5 h)
Transfer to Toledo (1 hour), sightseeing of the city. Transfer to Cordoba (4 hours)
View of Cordoba. Transfer to Seville (2 hours)
View of Seville. Transfer to El Puerto de Santa Maria (2 hours)
Walking along the beach in El Puerto. Transfer to Cadiz (0.5 h), sightseeing of the city. Transfer to Ronda (2 hours)
Inspection of Ronda. Transfer to Marbella (1 hour), walk along the beach. Drive to Benalmadena (1h)
Transfer to Malaga (30 min), sightseeing of the city. Transfer to Torcal (1 h), trekking in the mountains (2 h). Transfer to Granada (1.5 h)
View of Granada. Flamenco evening.
Transfer to Sierra Nevada (1 hour), walk around the ski resort. Transfer to Alicante (4h).
View of Alicante. Transfer to Valencia (2 hours).
Visit Valencia
Purchasing gifts and souvenirs. Transfer to Girona (6 hours). Flight to Karkov. We take a bus to Kyiv (4 p.m.).
Arrival in Kyiv.
As you can see, there is no Barcelona in the program, although we pass near it twice. This is due to the fact that we have already visited this wonderful city several years ago.
The map below is not a real record of our movements, it is just a rough outline of the trip. It has a lot of errors and inaccuracies – do not use it for navigation.
Flight to Spain
We bought tickets to Spain (roundtrip) for only $50 per person. True, we had to fly from Krakow and we spent the same amount on the road to it, but it still turned out cheaper than flying from home (we live in Kyiv). The Ryanair low-cost airline does not include luggage in the ticket price and allows you to carry only 10 kg in hand luggage for free. We had few things and this weight was enough for us. But the inability to take a knife and scissors with me greatly upset.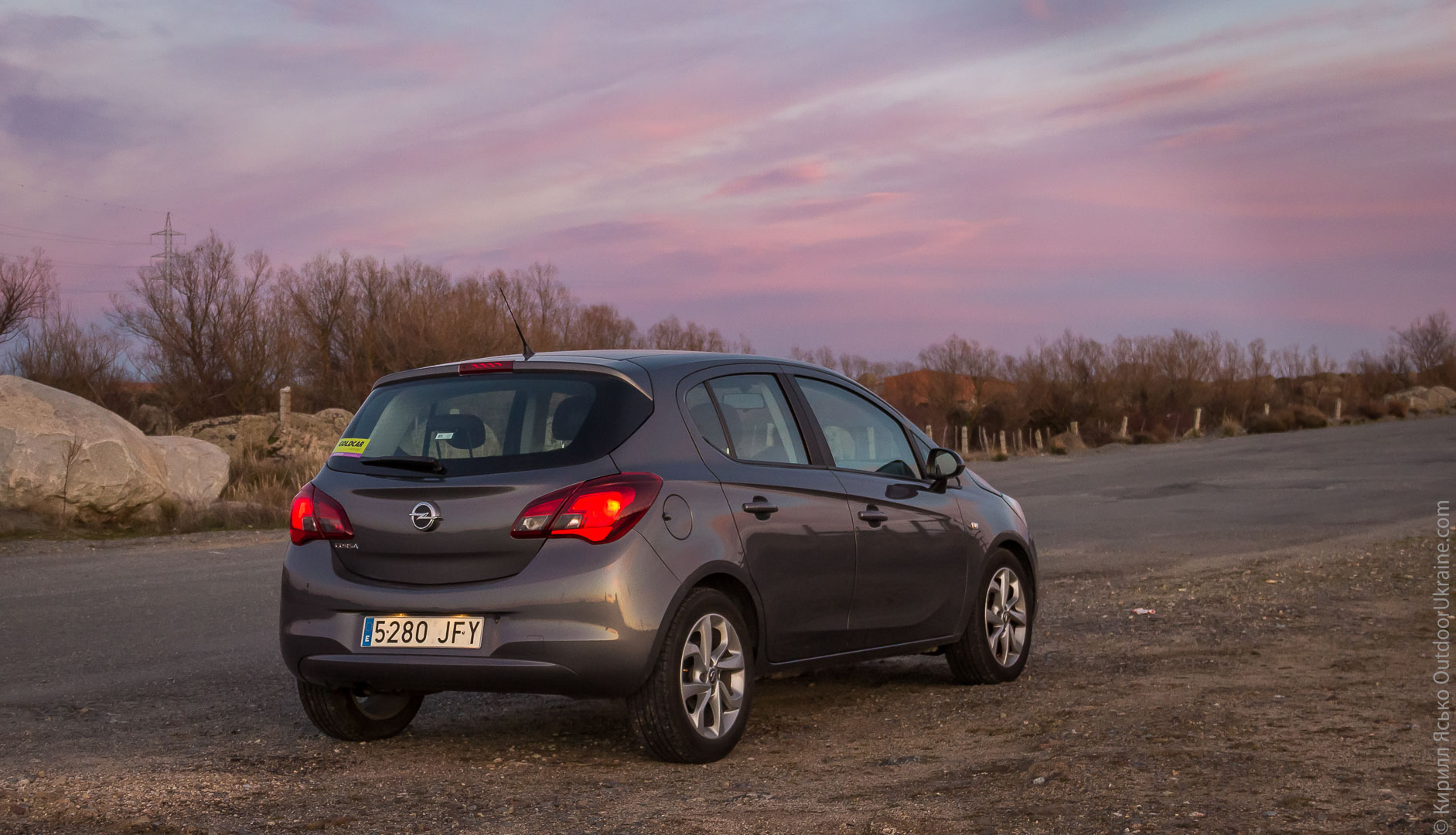 Rent a car in Spain
The car was rented on the Goldcar.es website just a day before departure to Spain. We booked for 15 days a car of the most budget category AA with full insurance (no excess) and an "extra driver" for only 283 euros. Paid immediately online. It was supposed to be something three-door, such as Fiat 500, Opel Adam, Volkswagen Up, but on arrival we were offered a choice of Opel Corsa or Ford Fiesta, i.e. class SS. Of course, no additional payment was required for this.
We chose Opel (just at random). The car was new – most likely 2015 release. At the start, the mileage was only 15 thousand kilometers. The car was with air conditioning, cruise control, a good media system and disgustingly small mirrors. I quickly got used to it, except that the wind blows this little Opel much stronger than our home rumbler.
In guidebooks, I met recommendations to take a car not at the airport, but at the city office of the company. Allegedly, it is 10-15% cheaper. However, going through the options on the distributor's website, I did not notice any difference and therefore chose the airport. We received the car with a full tank and it also had to be filled up.
When returning the car at the end of the trip, we just drove into the parking lot and threw the keys into a special box. If full insurance is issued, then you do not need to sign anything and go through the procedure for "delivery" of the car.
Theoretically, it was possible to save on insurance and take some package with a deductible. It would cost a hundred Euros less. But after reading the reports (deliberate wheel punctures, glass breaking, narrow parking lots), I decided not to take risks and was not mistaken. In the middle of the journey, in Granada, turning around on a narrow night street, I thoroughly crushed the right front door on the fence. If I had not had full insurance, this incident would have cost more than a hundred euros. Of course, we were still worried about whether GoldCar would want to charge me something after receiving a damaged car, but nothing has happened yet. I just received an email with the question "Were other vehicles involved in the accident?". I answered in the negative and the story ended there.
Rules of the road
On the highway almost everywhere you can go 120, in the city – 50 km / h. The Spaniards do not save on signs, thanks to which we always knew how fast it was possible to drive on this section (there were restrictions of 70, 80, 90 km / h in the district large cities). In the central part of the city, at the prescribed 50 km / h, I personally wanted to go no faster than 30. Too much information entered the brain (navigator messages, unfamiliar markings, mysterious traffic lights, wild pedestrians, and just architecture) and there was not the slightest desire to move faster .
Pedestrians are EVERYTHING and always let through. And they, radishes, are so used to it that they step onto the roadway without looking around. This made me sweat profusely while driving.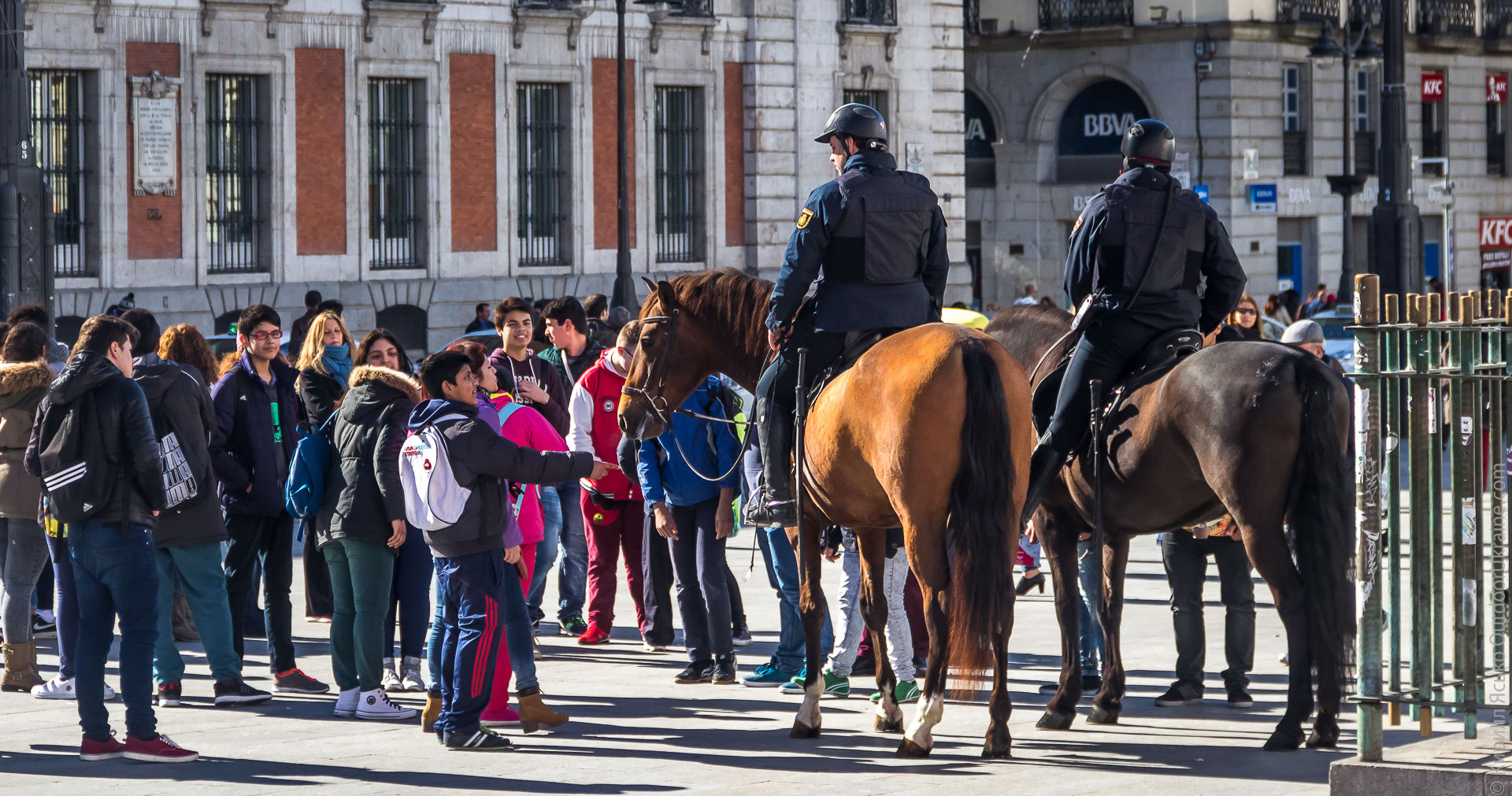 We never met the traffic police on the highway. But every day there were signs "Speed ​​controlled by radar". We tried not to run into and behaved decently (moving at the speed of the stream).
Circle
90% of intersections are organized with roundabouts. The circle is the main one everywhere, those who pour in are inferior. If your navigator tells you "Turn left at the next intersection", do not believe him and take the right lane instead of the left. There are almost no left turns we are used to in Spain. To turn left, you need to go right at the crossroads and there you will find either a semblance of a circle or some kind of auxiliary path with a traffic light.
Traffic lights
Spanish traffic lights were another culture shock for me. Outwardly, they are no different from ours, but their mode of operation is very disorienting at first. Instead of "green" flashing yellow is very actively used here. It means "You can go to the intersection (circle), but look around and give way to those who are driving at you on the left." Everything seems to be logical. But firstly, flashing yellow is easy to confuse with just yellow, which, by the way, also has some fun. And secondly, when green is not used (but only red and flashing yellow), then it is no longer possible to inform the driver that the traffic light will switch soon and it is necessary to clear the intersection (in our case, this role is played by simple yellow). Therefore, you should always slow down before intersections, because you never know when the "flashing green" will change to "red".
Toll roads
There are toll roads near major cities (Madrid, Barcelona, ​​Valencia, etc.). We never used them, although there was such a desire a couple of times when we got into a too dense stream of trucks on a free highway. But in general, free roads in Spain are beautiful and a pleasure to drive on them.
Curb
Most often along the edge of the road there is a chipper. If there is no chipper, then there must be a mesh fence. Or, in extreme cases, a "step" – a powerful height difference between the asphalt and the surrounding soil. Therefore, you will not be able to stop anywhere. You need to look for an exit to a recreation area or a gas station.
Gas stations
During the entire trip, we only once got to the gas station, where there were refuellers. Usually you insert the gun into the tank yourself, pour as much as you need, and then go to the cashier and pay. Gas (LPG) is found at gas stations, but not everywhere. Often, gas stations are not on the highway itself, but on the sidelines. They are not visible from the road and you need to navigate by signs or a navigator.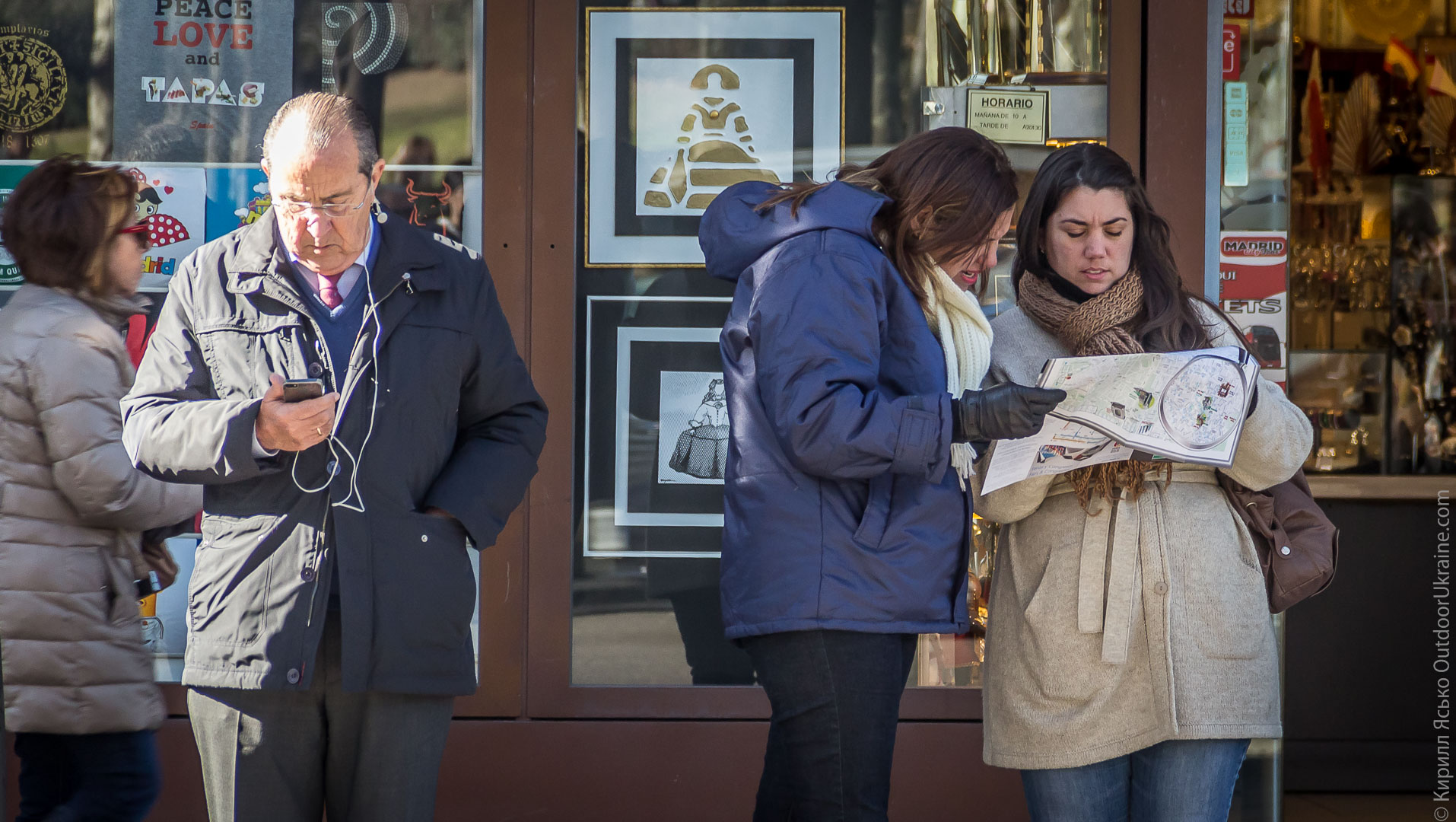 GPS navigator
At home, I usually use Yandex Navigator. It does not work in Spain. Therefore, before the trip, I installed several navigation programs on my phone – Navitell, Sygic and something else. We drove the first part of the trip with Navitel, but then his constant glitches (the application was stopped, damn it) and errors in the laying (those very left turns) forced us to look for a replacement for him. As a result, the Google navigator turned out to be the most sane guide in Spain. He did not try to drag me through the city center (but used the ring ones), gave more understandable directions at complex multi-level interchanges (after 800 meters turn right and immediately after that keep left) and quickly rebuilt the route in case of my mistake.
Mistakes have always been costly. On the track, taking the wrong exit led to a 20-minute loop through interchanges to get back to the starting position. And in the city there is usually nowhere to park to stop and do some magic with the map and get your bearings. Therefore, I always entered the target coordinates as accurately as possible and checked the location of the races on Google Street View.
Parking areas
In large cities, parking for free is unrealistic, at least in the center. Everything is busy in the yards, and there are parking meters along the streets. I did not use parking meters with parking meters – the maximum parking time there is limited to two hours and you need to pay for parking in advance. And we most often either did not know how much we were becoming, or we were standing for 5-6 hours. Therefore, I studied the Parkopedia.com website in advance, found large underground or surface parking lots with a barrier there, and entered their coordinates into the navigator. On average, parking cost about 2 Euro per hour. But a couple of times I managed to find shareware parking lots, where homeless people collected 2-3 Euros with no time limits.
Daily routine
When traveling, I prefer a tight schedule of life as eventful as possible (at home, on the contrary, I'm not in a hurry). I go to museums relatively rarely (only to the most iconic ones such as the Louvre and the Hermitage). I have 5-6 hours to visit the main sights of most cities. Based on this and other initial data (cool weather, the presence of a car), on this trip we had the following rhythm of the day:
08:00 wake up, breakfast, packing
10:00 check out from the hotel, load things into the car, drive to the city center
11:00 a.m. we stop at a paid parking lot next to the city center, go for a walk
13:00 lunch sandwiches in the park on a bench
17:00 we return to the car, we leave for the next city, at the district stop at a large supermarket
20:30 we arrived in the next city, check into a hotel
21:00 snack
22:00 I book accommodation for tomorrow, make a list of sights to see, record a track in GPS.
24:00 lights out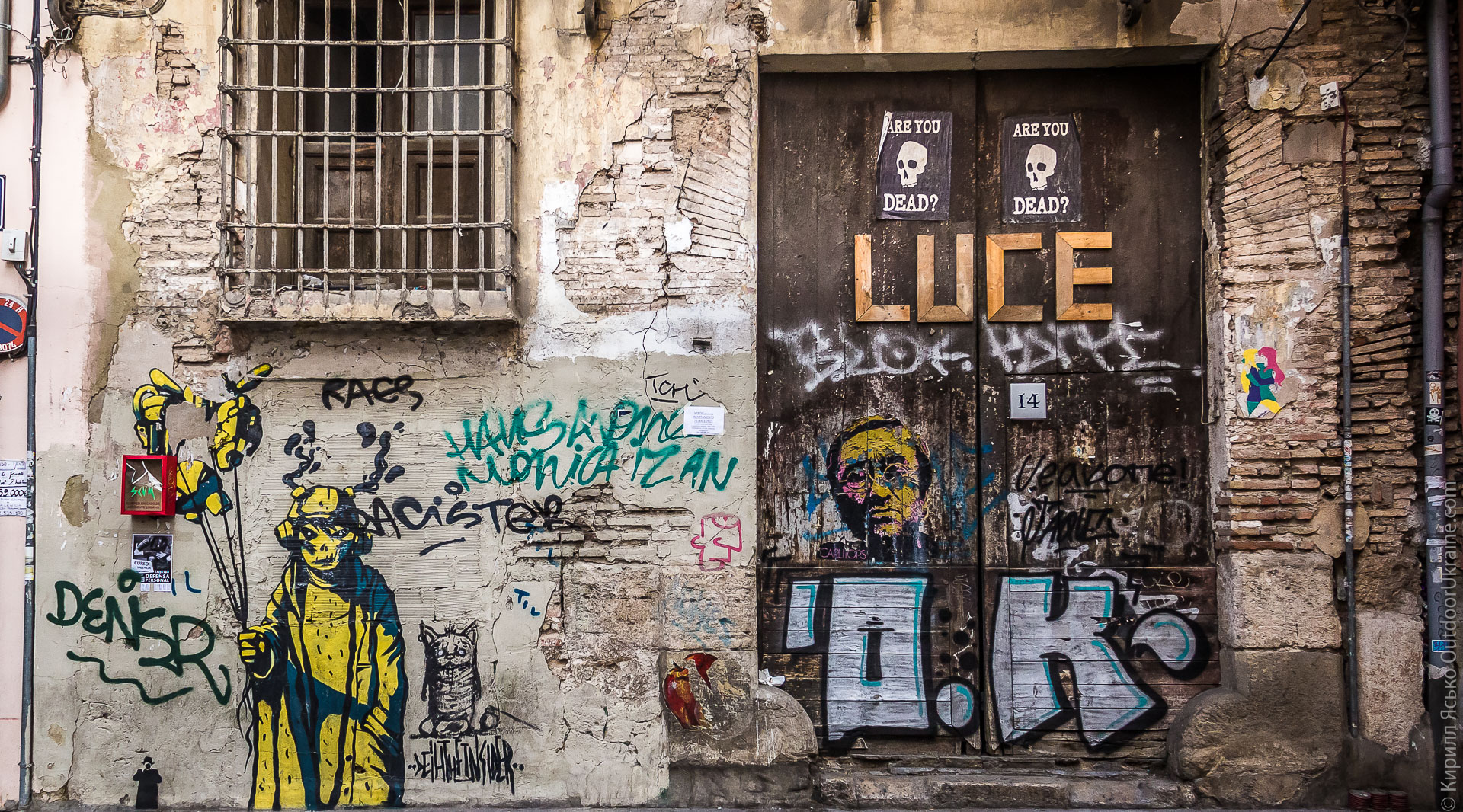 Sightseeing
Although before the trip I stocked up with a pack of guidebooks (the main one was in English, I downloaded it on Rutracker), but there was no time to read them. Therefore, preparation for exploring the city for the most part consisted of reading Wikipedia and loading the route into GPS. Of course, you can look for an information center for tourists, take a map there, but there is not always time for this. I acted like this:
In the Google Earth program or on the WikiLoc website, I was looking for a ready-made walking route in the desired city. It is desirable that its length be about 10 km (just 5 hours of walking) and points of the main attractions were set on it. I saved this route in a KML file, imported it into the Garmin BaseCamp program and recorded it in my GPS. Going along a ready route is much easier than making your own way from one point to another. More precisely, there is less risk of missing something really important. Here I proceed from the assumption that the friend who published the detailed route around the city is its connoisseur (and not the same tramp as I) and laid it in the most optimal way – the way he would show his hometown to dear guests.
Following the advice of experienced "Spaniards", I bought tickets to the Alhambra complex in Granada via the Internet. I was not completely sure on which day we would be in Granada and I was very delayed in buying these tickets. When certainty with the dates came, there were no more simple tickets on the network. I had to buy the so-called "Golden Doubloon" (Doblo de Oro) – a comprehensive ticket, which includes, in addition to the Alhambra, several little-visited and uninteresting objects on the territory of old Granada.
In addition, it made sense to buy tickets in advance for the central cathedral and the royal palace in Seville. It would have saved us an hour of standing in line. All other attractions in February can be safely taken right away – without prior booking.
Hotels
As I said, we spent an average of 40 euros per day on accommodation. Since there was little time for preparation, and we were traveling out of season, I did not book in advance, but in the "today for tomorrow" mode. Those. Every evening I opened booking.com and looked for where to stay tomorrow. Immediately booked (preferably without prepayment), scored in the GPS coordinates of the next rooming house and that's it. I did not print anything and did not even throw off the reservation on the phone.
Selection criteria
On booking.com I searched according to two criteria – parking and a kitchenette in the room. Then I sorted it in ascending order of price and began to consider each option in detail (study the map and read the reviews). Normal "fresh" hotels with convenient parking and sane prices were most often located not in the city center, but on the outskirts.
Registration
As practice has shown, the easiest way to report your reservation for a room is to simply stretch out your passport. No need to start explaining what your name is, that you have a reservation on booking, etc. – enough to smile and hand over the passport. By the way, in most hotels at check-in they were asked to present the passports of both guests. In order to park a car in a hotel parking lot, it was often necessary to first temporarily park somewhere nearby, go to the reception, register, tell the car number, get the keys or a magnetic card from the parking lot, and only after that you could call "in the hotel".
Heating in hotels
Since the weather was not hot, the issue of heating in the rooms was very relevant. In most cases, the air conditioner was the only heating device. Only in one place did we meet electric batteries under the windows. And in several large hotels there was a centralized air conditioning / heating system. I found the Spanish duvets too thin and the ubiquitous marble floors in the rooms icy cold, but overall we didn't get cold and felt comfortable.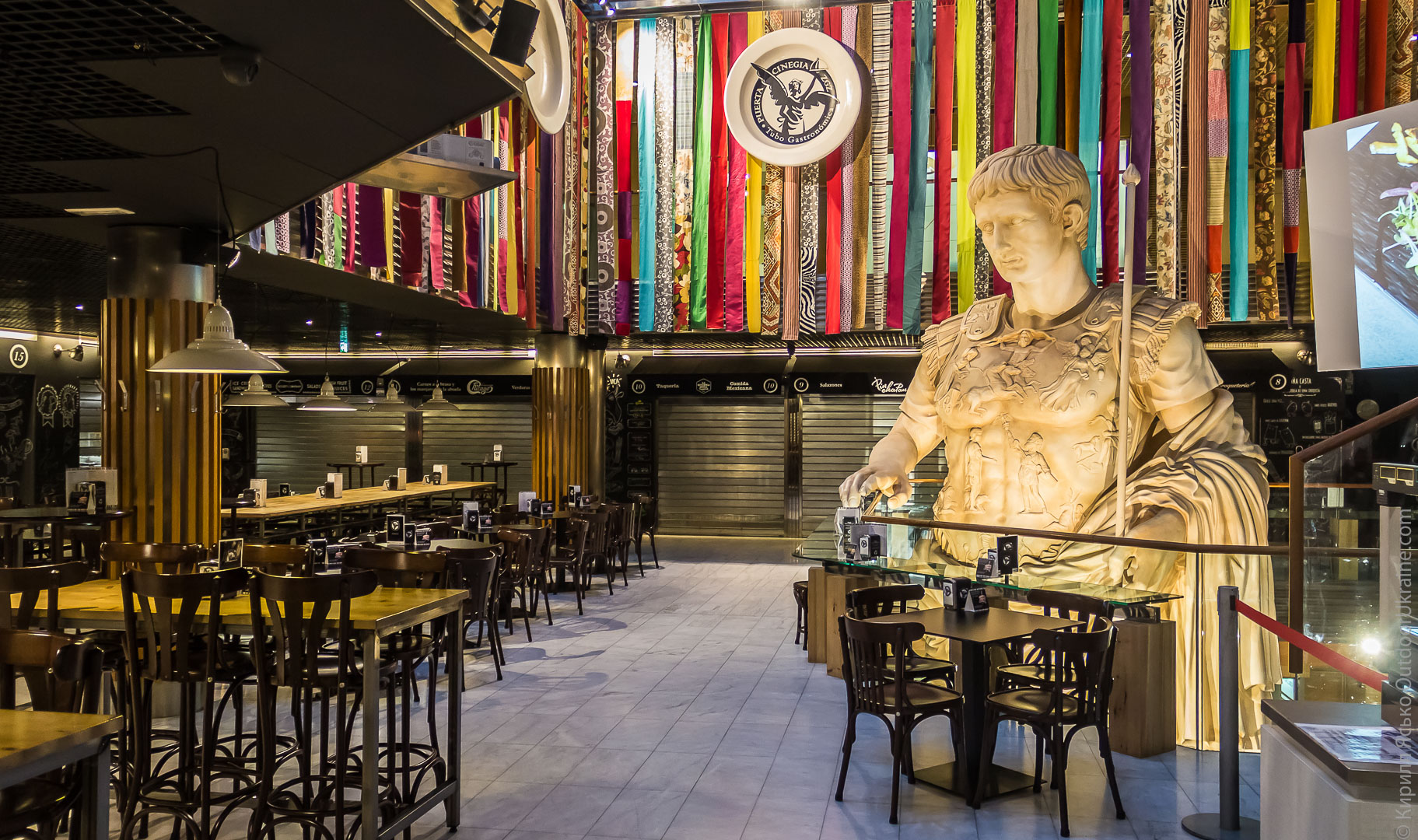 Food
The significantly higher exchange rate of the euro forced us to look for ways to spend less when traveling. To do this, we decided to eat "at home" as much as possible. If there was such an opportunity, then we ordered a room with a kitchen and cooked breakfast and dinner on our own, made sandwiches for lunch. Products were bought in large supermarkets (Mercadona, Dia, Carrefour, Alcampo). And although we didn't really limit ourselves in anything, we spent only 100 euros on their purchase in 15 days. This is approximately 3.3 euros per person per day. If you eat in restaurants, then you need to lay at least 20 euros per person per day. Thus, we can assume that we saved about 500 euros on restaurants.
Весьма скромный завтрак в отеле (кофе с булочкой, колбаса и сыр) стоит 5-8 евро. Основные блюда в ресторанах начинаются от 10 евро. Я не хочу сказать, что это дорого, просто мы слегка обеднели за последнее время ))
In the supermarket for 1.5-2 euros you can buy frozen lasagna, ravioli and similar semi-finished products. And if you don't heat up, but really cook (cook spaghetti or rice), then it comes out even cheaper. For dinner, in addition to the main course, they made salads and stewed vegetables. By the way, fresh cucumbers and cabbage in Spain are almost cheaper than ours. For breakfast, we steamed oatmeal or muesli. For lunch, in addition to sandwiches, they took yogurt and apples.
Of course, fussing with the kitchen deprives the trip of some touch of glamour. But it gives a free hand regarding the choice of the location of the hotel. You no longer need to settle in the very center (closer to restaurants) and you don't need to worry that by the time you arrive in the city, all catering will be closed (sometimes we got to the hotel only by midnight).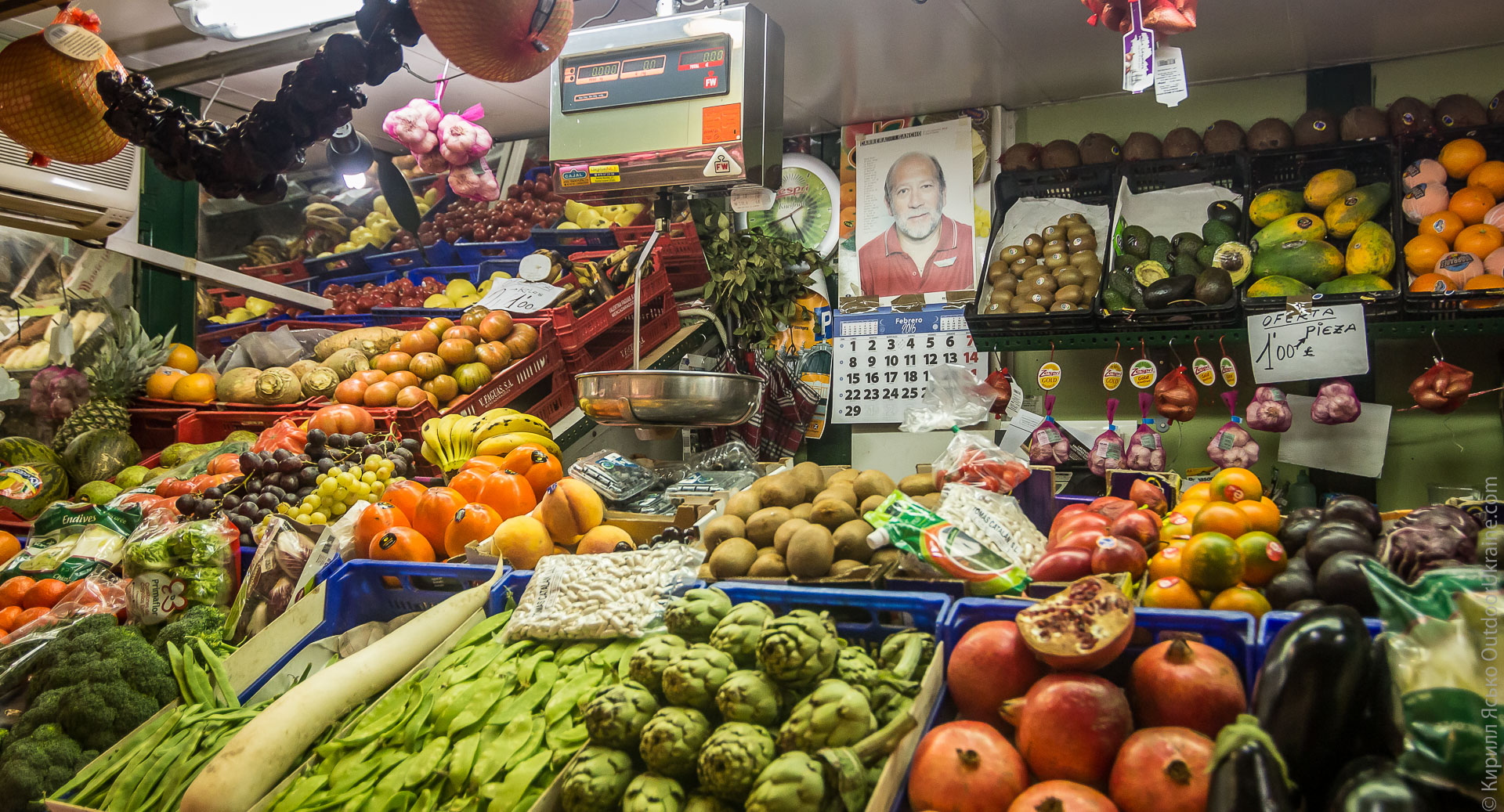 Weather
A couple of years ago we were already in Spain in the winter (spent a few days in Barcelona at the end of January). Based on the impressions of that trip, I imagined a warm and blooming winter. However, it turned out that it is really warm only near the Mediterranean Sea (Seville, Marbella, Alicante, Valencia), and in the depths of the continent the air is 5-10 degrees colder. And if it was +20 near the sea during the day, then in Madrid it was about +10.
In the Granada area, we were caught in heavy rains. They prevented us from seeing Torcal and the Sierra Nevada in a human way. But in general, we guessed right with the choice of clothes and shoes, and therefore we consider the weather pleasant (coolness is better than the exhausting heat that summer travelers face).