I received a text message from a friend at 1 am today. He wondered if I or my tourists in Pokhara had been washed away. This is such a popular tourist town in Nepal, not far from the Annapurna massif, where we arrange trips.It turns out that today (May 5, 2012) as a result of avalanches (probably from Mount Machapuchare), the water level in the Seti River has risen sharply. One of the Nepalese villages was simply washed away. There are victims, about 50 people went missing, among them our compatriots…On this, the information on the Russian-language Internet was exhausted. But it became clear that not only my friend was worried. The parents of numerous Russian and Ukrainian tourists who went to Nepal for the May holidays tried to find out (on thematic forums) where and which village was washed away, whether their children were in danger.A search in the foreign news yielded an important clue – the village was called Kharapani and it had hot springs. The name is unfamiliar. I looked at a map of the surroundings of Pokhara, walked along the bed of the Seti River, but did not find such a village.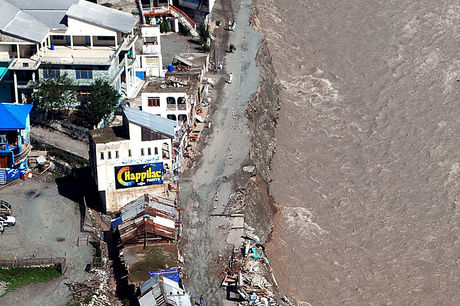 The Internet helped again – I managed to find some scientific report on experiments on using the energy of hot springs to accelerate the formation of biofuels from agro-waste. Hot Springs Kharapani! Moreover, the document contained the coordinates of the village of Kharapani (28°21'36″N 83°57'36″E).

I put them on the map and finally convinced myself of what I had long suspected – the affected village was (alas, in the past tense) away from the main trekking routes of the region – "Around Annapurna" and "To Annapurna Base Camp". It is on them that the vast majority of our tourists go. This means that most parents can try to calm down and fall asleep.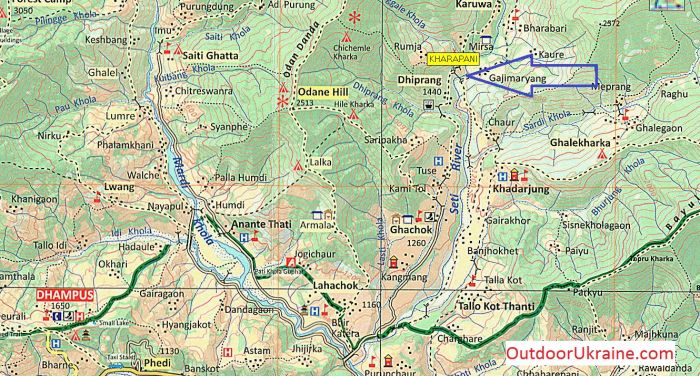 and one more map – it shows Pokhara (bottom, center)
Kirill Yasko, Crimea May 6 02:53