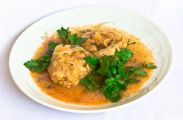 Before I had time to learn how to photograph landscapes (I really didn't have time – I don't know how), as by chance I became interested in food photography, i.e. filming food. So far there have been only a couple of sessions, but I have already "progressed" rather well – I took a tripod from the far shelf, read a few .html" rel="noopener" target="_blank" title="Cooking photography for bloggers">guides, started shooting in natural (daylight) light.
There is nothing much to brag about yet, but I can share an observation – and when you photograph food and when you process the footage, you don't think about it at all as food, you don't want to eat it …
I wonder if this rule applies to "nude"?